A new version of EN 388, the standard used to regulate cut protection in safety gloves, was published in November 2016. In this post we explore the changes to the standard in more detail.
EN 388 is the standard that determines a glove's performance against mechanical hazards. The standard specifies the testing and marking required for protective gloves. It also states the performance levels for gloves protecting against mechanical risks such as abrasion, blade cut, tear, puncture and where relevant, impact.
Up until November 2016 the 'Coup Blade Cut Test' was the standard test method for cut protection. A rotating circular blade moved horizontally to-and-fro across a fabric sample with a fixed force of 5 Newton's (N) applied from above.
This method was inaccurate as gloves featuring liners blended with steel and glass resulted in the blade being blunted.
Therefore, a new test was introduced – EN ISO 13997. Any sample fabric testing for cut resistance using the 'Coup Blade Cut Test', which blunts the blade during the test, will have to also be tested using the new EN ISO 13997 test. This is to ensure the degree of protection provided by the glove is as accurate as possible.
HOW EN ISO 13997 WORKS
The objective of this new cut protection test is to determine the resistance of the safety glove by applying the sample fabric with great force in a single movement. To this end, a sharp-edged blade is dragged over the sample fabric once. This allows the accurate calculation of the minimum force required to cut the sample material at a thickness of 20mm. The result is displayed in Newton's.
Additionally, cut resistance ratings have changed with the introduction of EN ISO 13997, meaning there are now 6 different grades at which a glove will pass. This test gives a more accurate specification in terms of cut resistance during work which includes differing impact-based hazards.
This info-graphic from Globus clearly explains how the test is carried out and the different levels of cut protection that can be obtained.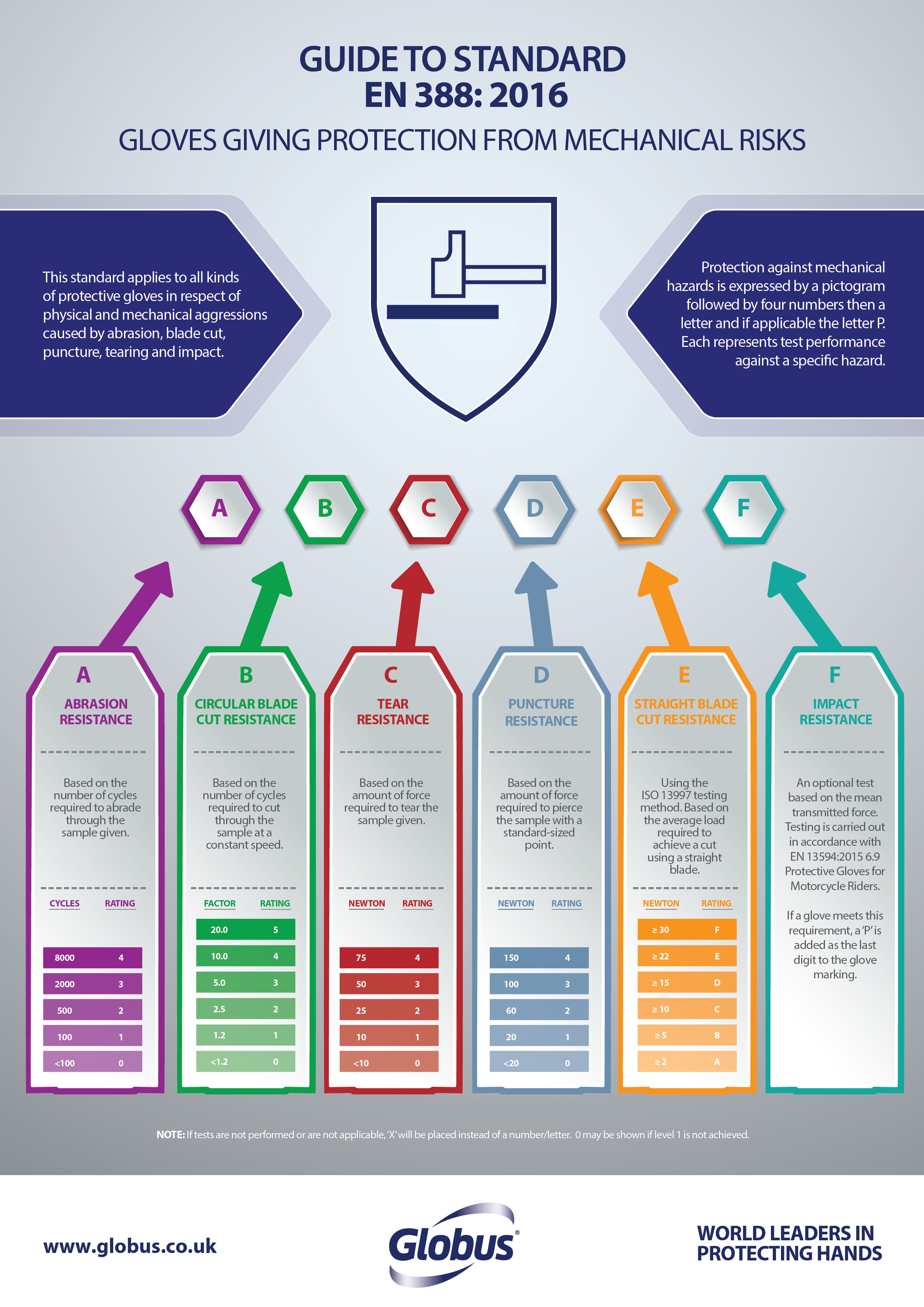 The change is welcome new for industries such as sheet metal work, glass handling, double glazing manufacturers etc. Specifying a glove that provides workers with the appropriate amount of resistance to blade cuts for the task at hand is crucial in helping to keep workers safe and companies efficient.
*Credit to Traffiglove & Globus