When selecting the right PPE products, having a trusted supplier will make all the difference. If you shop around on the internet, be aware that not all PPE is up to the job and when the gear is compromised, that could put workers and companies at risk.
The measures for Safety Standards will often update and it's our job as a supplier to be on top of those changes when they occur. Generally speaking, if you want reassurance of compliance in your PPE products look for the CE Marking (it must be at least 5mm high in the correct font). For high risk chemical protective clothing the CE mark must be accompanied by a 4 digit number. The CE Marking affixed to PPE is the evidence that the product is compliant with EU legislation.
Higher Safety Standards Introduced
New regulations came into effect with PPE in 2018 and are fully in force as of April 2019. Changes meant that some products needed stricter conformity tests. The new regulations mean the entire supply chain needs to conform and take accountability. A supplier should be able to show you and demonstrate a Declaration on request.
It's worth mentioning here that Safpro is a BSIF Registered Safety Supplier. This is a hallmark within the industry, often asked for as a qualification for Supply Accreditation and indicates that we cooperate with PPE compliance protocol.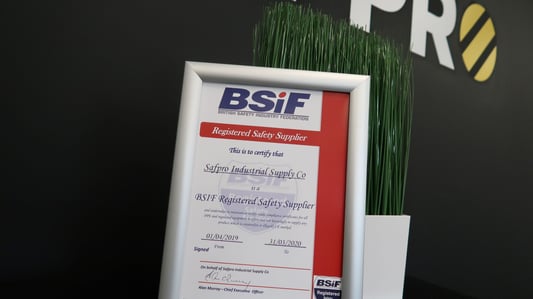 Know Your PPE Supplier
It's very important to know you have a reliable and trustworthy source when procuring your PPE, such as hi-vis jackets, safety footwear, hardhats and eye protection. In the UK there have been cases where PPE equipment has been bought outside of the EU where standards are lower and the equipment is not up to the job. This is very easy to do now in the digital era, where you can buy anything off the internet, but it is very unwise as you compromise the safety of your workers and in addition put the reputation and legality of your business at risk.
Safpro takes great pride in ensuring compliance and sourcing the best quality products. If you have any concerns about purchasing the right PPE and workwear please feel free to contact us at sales@safpro.co.uk or telephone us on 01452 529050