Prior to reducing costs, the safety & wellbeing of your workers is of the upmost importance within any business. Which of course is easily amplified through correct PPE and Workwear.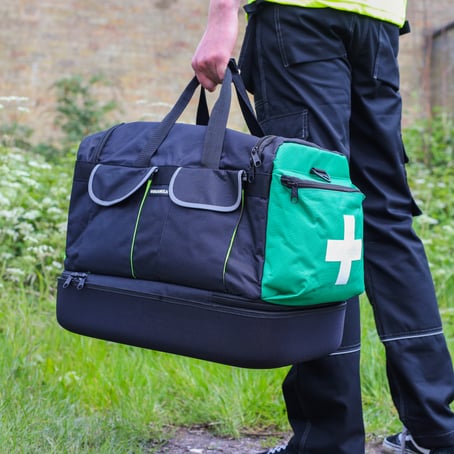 However, what more can be done to ensure the protection of your workforce? We feel businesses should ask questions such as the following:
What are the hazards?
Who might be harmed if not completed?
What controls are already in place?
What additional controls could be added to ensure further safety?
Is it recorded efficiently and available for review?
Following on from this, Health and Safety Executive (HSE) state the importance of maintenance within PPE, mentioning specifically keeping it in good condition, and the importance of being able to monitor and review. (HSE, 2021)
This got us thinking at Safpro...What if there was a solution available to workforces to keep their PPE & Workwear in top condition, organised for ease of use, and the accessibility to record and monitor their own stock levels.
Let us introduce you to the

Holdall.
The Organisa Holdall is one of the simplest, yet convenient ways to achieve safety precautions, and reducing costs, through improving the longevity of your workers PPE & Workwear.
FEATURES:
- ORGANISE – a place for everything – individual compartments keep everything in order, giving easy access to all your PPE & Workwear, whenever required

- MANAGE – spot checks by health & safety officers? No problem - organise your PPE effectively with our clear internal pocket for quick access to your record card and content list

- PROTECT – reduce costs on lost or damaged PPE – ideal storage solution, protecting and preventing damage in the van or on site, a favourite feature of ours is the hard base bottom to store and protect your work boots from the rest of your equipment

- BRAND – protect your team, and build your brand – want to personalise the holdall? We'll help you apply your company logo to the Organisa to promote your brand
Safpro offer many solutions to help you reduce your costs surrounding compliance.

If you would like to know more about the Organisa Holdall, or any of our solutions, then please don't hesitate to get in touch.
CONTACT: 01452 529050 or sales@safpro.co.uk
Sources: Hse.gov.uk. 2021. Maintenance of work equipment - Work equipment and machinery. [online] Available at: <https://www.hse.gov.uk/work-equipment-machinery/maintenance.htm> [Accessed 8 July 2021].