Due to rising daily infections we have supported many companies with Flowflex Antigen Rapid Test Kits as a quick, accurate method infections of managing Covid and protecting their workforce. Using a simple nasal swab within 2cm of the nose, they are extremely easy to administer.

A high proportion of people (as many as 1 in 3) who are infected with Covid have no symptoms and could be spreading the disease within your workplace without knowing it. Therefore, identifying those showing no symptoms will mean quickly identifying positive cases and breaking chains of transmission, creating a safer workplace for your staff.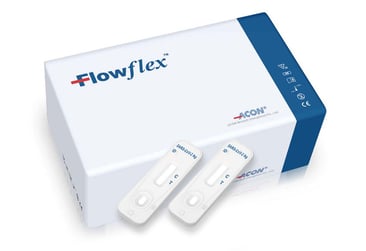 Flowflex Antigen Test Kit Contents (x25 tests)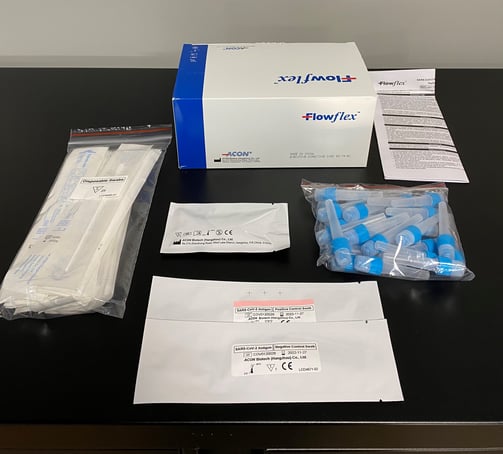 The Flowflex SARS-CoV-2 Antigen Rapid Test is a lateral flow chromatographic immunoassay for the qualitative detection of the nucleocapsid protein antigen from SARS-CoV-2 in nasal swab specimens directly from individuals who are suspected of an active COVID-19 infection by their healthcare provider within the first seven days of the onset of symptoms.
Flowflex Test Kits have a big advantage to be the test of choice for your business. They are UK Government Approved, Stage 3 Validated by Porton Down Laboratories, C.E. Approved, Self-Test Approved, and MHRA Registered.
Nasal-only test, non-invasive

98.8% accuracy

97.1% diagnostic sensitivity 99.6% specificity

ISO certified

2 year shelf life

Results in 15 minutes
You can download the Flowflex datasheet and relevant certification on this link.